A Message from Bishop Sarah, Chair of the UK Commission on Bereavement
Since the launch of this Commission, and the opening of our national conversation about grief, I have been overwhelmed by the support we have received and the open, genuine way in which people have taken part. Our work is founded upon the experiences of people who have been bereaved and so I am so appreciative that so many have answered our call and shared their stories with us.
The call for evidence has only been open a matter of weeks, yet already we have received a huge number of responses from those who have gone through a bereavement. We have heard so many honest, candid and compelling stories about people's experiences, and I would like to thank each and every one of you who have submitted your input.
We are keen to have more responses to make sure that we can get a full picture of the way bereavement is experienced by people from across the UK, and from a range of different backgrounds. So please do continue to share the survey with your networks and encourage those who feel comfortable to submit their evidence to the Commission. The survey for individuals is available here, and the Commission can also work with evidence submitted in other formats, such as via video message or telephone call.
Bereavement Policy Workshops
The Commission has been holding a series of workshops with organisations involved in bereavement support to explore issues around bereavement policy. Held in partnership with charities and community groups, the workshops are an opportunity to explore potential policy recommendations for better supporting bereaved people, while also look at the differences in bereavement policy between the UK nations. Workshops have taken place in London and Glasgow in the last few weeks, and further workshops will be held for groups based in Wales and Northern Ireland later this year.
November Commissioner meeting
Earlier this month, I chaired a meeting of the Commissioners where we heard an overview of the evidence we have received so far. We have had many rich responses covering the difficulties people face following a bereavement. These include the challenges of dealing with administrative and financial matters, as well as the emotional impact and the barriers preventing people from getting appropriate support. We have also heard stories that have highlighted some positive elements of people's experiences such as the support that individuals have received from employers and schools. All of the evidence we receive will be essential to the development of our findings and will shape our recommendations for improving people's experience of bereavement.
Our next steps
The next six weeks will be very busy for the Commission as we approach the deadline of the consultation on 31st December.
As well as hearing from adults, the Commission wants to hear from children and young people who have experienced the death of someone close to them. Their responses will help the Commission identify ways that support for bereaved children and young people can be the best possible. It is important that we hear directly from children and young people to get their ideas, and we have just launched surveys to help collect evidence on young people's experiences of bereavement. Further information and the surveys for young people are available here.
This month we have also hosted a Twitter takeover with learning disability charity MacIntyre to help encourage those with learning disabilities to share their experiences of bereavement. If you would like to join the conversation online, please follow @theUKCB on Twitter and use the hashtags #learningdisability #bereavement.
During National Grief Awareness week we will be holding a series of oral evidence sessions for Commissioners to hear directly from organisations that support people through a bereavement. These sessions will help shape our findings and feed in to the development of our recommendations for better bereavement support.
Listening to and learning from a wide range of people across the country is the most important activity we undertake as a Commission. And so, please do help us ensure that anyone who might want to input their thoughts to the Commission has the opportunity to do so by encouraging them to take part. You can find out more about the different ways in which you can take part here.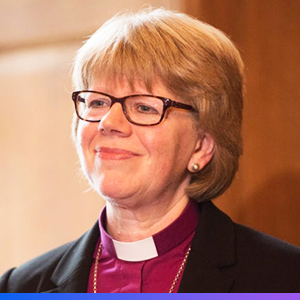 Bishop Sarah
Chair of the UK Commission on Bereavement