A Message from Bishop Sarah, Chair of the UK Commission on Bereavement
When we launched the Commission, we knew that we were embarking on a critical but difficult journey as we respond to the challenges supporting people affected by bereavement that have been highlighted by COVID-19, and we work to change things for the better for people across the UK. What I hadn't predicted was the amount of support and encouragement we would receive from people of all backgrounds, who want to work with us to improve support for those who have suffered loss, both now and in the long term. Thank you to each and every one of you. Further details on how you will be able to provide input and support to the Commission are below.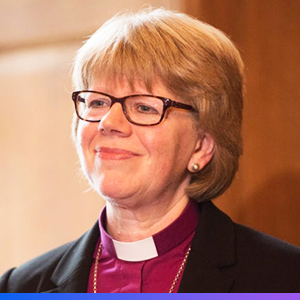 First Commissioner Meeting
At the end of July, I was pleased to Chair the first meeting of Commissioners to discuss the scope of the Commission and how we will seek the views and experiences of everyone affected by bereavement. We want to begin a national conversation about bereavement. That means hearing from those who have lost someone, their friends and families, as well as the professionals, healthcare providers, charities, voluntary and faith groups who work to support those experiencing loss. We are also committed to considering the latest academic research on the subject, and so I was pleased that Dr Emily Harrop and Dr Lucy Selman were able to join us at the launch of the Commission to discuss the initial findings from their national research project looking at the impact of COVID-19 on bereavement support.
Learning from the experiences of people across the country, and with the help of individuals and experts, I know that this Commission has the opportunity to improve support for those who suffer loss. However, in order to achieve this, it is essential that we work with decision makers to ensure that what we learn through the work of the Commission is transformed into action. I am grateful that the Commission has the support of Nadine Dorries MP, Minister in the Department of Health and Social Care with responsibility for bereavement, who reaffirmed her commitment to this issue at the launch of the Commission.
Lived Experience Advisory Forum
Throughout our work, we want to ensure that people with lived experience of bereavement are able to actively contribute to and shape our recommendations. To help achieve this, the Lived Experience Advisory Forum (LEAF) has been established, bringing together people who have experienced a close bereavement during the last three years, both before and during the Covid-19 pandemic.
Members of the LEAF draw on their own personal experiences to help shape the Commission's understanding, and help to identify priorities, challenges, and recommendations. The LEAF have held their first two meetings in July and August, refining the topics for the Commission's written evidence call.

They will continue to meet throughout the length of the Commission to ensure that any recommendations made are grounded in experience, and helping to identify ways in which all voices are heard and elevated through the evidence calls. The Commission is honoured to be working alongside and learning from this group of individuals who are so generously sharing their experience with us all.
Launch of 'My Grief Story' – 21st September
We are inviting anyone who has faced bereavement to share your experience and offer views on how bereaved people can be supported in the future.
On September 21st we will be holding a virtual event hosted by TV reality and talent stars AJ & Curtis Pritchard alongside My Greif Gang podcaster Amber Jeffrey.  My Grief Story will be an opportunity for everyone to give their views and contribute to the discussion about the best ways to support those dealing with loss. The launch event will be held online and will be a chance for individuals, diverse communities, and organisations to come together and share experiences and challenges faced during the pandemic.
We have an inspiring range of speakers including Jeff Brazier, poets and other guests. You'll hear from some of the Commissioners involved in the UK Commission on Bereavement, and find out how you can contribute your own story to the work of the Commission.
The event aims to inspire, provoke and challenge attendees to explore new possibilities, and look at how you can contribute to the change that's needed for Bereavement services in the UK. Further details about My Grief Story and how to join are available here:
Call for Written Evidence from Professionals
As well as hearing the views of those who have been bereaved as part of My Grief Story, we are also keen to have input from professionals and organisations who undertake work relevant to the Commission. We would like to gather evidence from professionals on four principal areas of the Commission's work, these are:
Public attitudes and engagement – including exploration of how employers, schools and other community organisations could better support people who have been bereaved.
Practical bereavement support – including how support could be better provided with administration of tasks after bereavement, and the financial support needs of people who have been bereaved.
Infrastructure and intervention – including the capacity of the sector to assess need, deliver services, and to coordinate between services in order to deliver holistic support to people who have been bereaved
The impact of the pandemic – including the unequal impact of the pandemic on different groups of people who have faced bereavement, and innovations in practice which could provide lessons for the future.
Details of how to submit your evidence are available here. Professionals who would like to share views and experiences in a personal capacity are invited to contribute to My Grief Story as well as making a submission in response to the call for written evidence from professionals.
Stay in touch
We very much hope that you will be able to join us on September 21st, but if you cannot make it there will be many ways to join the conversation and submit your views over the coming months. Stay in touch and follow us on social media to keep up to date on the work of the commission. We would also welcome your support in letting others know about the Commission and the opportunities to submit evidence.
Please do share through your own networks and on social media, and if you would like to find out about other ways in which you can support the work of the Commission or submit your own story or blog about the issues being raised, please contact ukcb@luther.co.uk.